"all the staff have been very kind and also professional"
"everyone I have spoken to have been empathetic and knowledgable"
"staff have responded effectively and pro-actively at all times"
"as far as I am concerned, High Oaks is a friendly, well run home which has been able to meet, as best as it can, the needs of my client"
Hadyn Everson – Waveney Recovery Team, Care Co-ordinator
——————————————————————————–
"very friendly, very helpful, very knowledgable"
"they appear to listen and respond to the residents well'
"a very good understanding was demonstrated during my visits"
"my service user's wishes have been thoroughly respected"
"as far as I have seen, choice and control is very much promoted for residents"
"support appears to be individualised and any obstacles staff work hard to overcome"
"the atmosphere on my visits has always been good"
"I get a summary sheet of the updates for my service user which is really helpful"
"I have been impressed with this placement especially the attitude of the staff towards my service user"
"my service user can be risky and the staff have demonstrated excellent skills in managing this keeping them and others safe. They can be very challenging, the staff have been very supportive and dealt with them sensitively and effectively"

Senior Community Mental Health Nurse
——————————————————————————–
"Because I really don't know any of the staff, I can only go by what my son tells me and I am happy with that. My son, I am pleased to say, has made a huge improvement and he gets on very well with everyone he meets"
Mother of resident (who isn't able to visit the home)
——————————————————————————–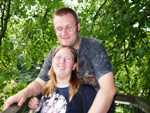 Ray was a resident at High Oaks some years ago and he sent an email to update us on how well he was managing in his life.
He said that he wanted to thank the staff at High Oaks for helping him get back on track. He wrote that without them he probably wouldn't have been able to get married to Gemma, his wife of three years.
He asked that we put his photo on our website to "create a High Oaks success story". He also said "High Oaks is a breath of fresh air, don't let anyone tell you otherwise"
Ray and his wife Gemma are now proud parents of Leslie James who was born on 17 May 2012 at 5.07am weighing a healthy 9lb.
——————————————————————————–